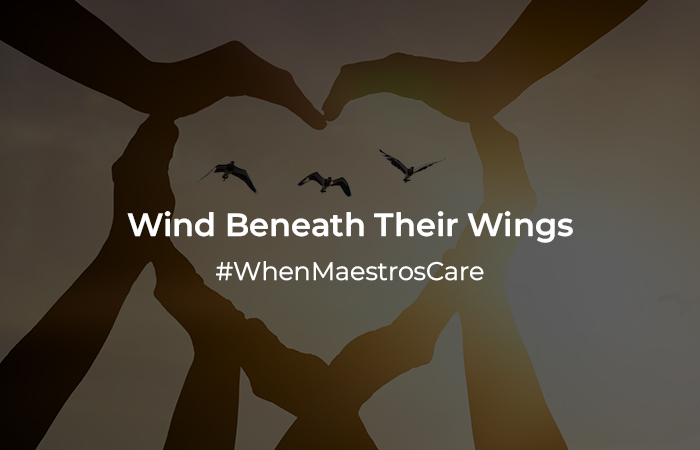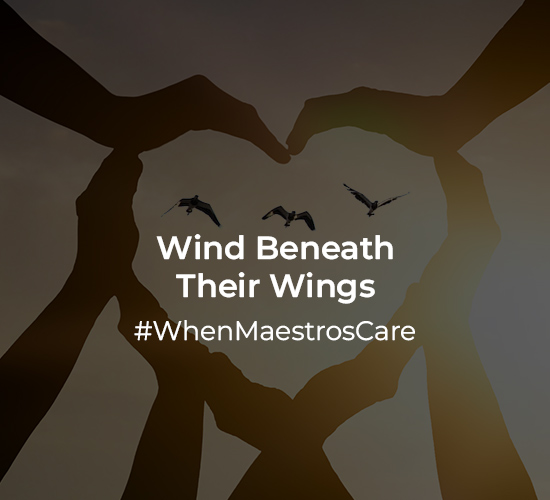 2020 – 2021
Experion Extends Support to the Visually Impaired Community
Experion demonstrated our commitment to social responsibility by making a significant donation to the National Association for the Blind. This donation is directed towards supporting training and development initiatives that aim to empower visually impaired individuals. Through this contribution, Experion's impact reaches a considerable number of individuals within the visually impaired community. The donation aids in providing specialized training and educational programs tailored to enhance the lives of those facing visual challenges. These initiatives not only equip individuals with practical skills but also foster independence, self-confidence, and a sense of inclusion.
Experion Technologies, in association with Chaithanya Eye Hospital, impacts 65+ lives through free cataract surgeries 
Experion Technologies, in association with Chaithanya Eye Hospital, conducted 65+ cataract surgeries for deserving patients as part of their social responsibility initiatives. 
Due to the overwhelming number of requests, the initially decided number of 50 surgeries was increased to 65 considering the immediate treatment requirement. The examination and surgeries were conducted at various centers of Chaithanya Eye Hospital at Thiruvananthapuram (Kesavadasapuram, Karamana), Ernakulam (Ravipuram, Palarivattom), Kottayam, Kollam, and Thiruvalla. 
2021 – 2022
A Step Towards Emergency Relief and Positive Impact: Experion Contributes to PM CARE Fund
Experion directed a significant contribution to the Prime Minister's Citizen Assistance and Relief in Emergency Situations Fund (PM CARE Fund). This fund serves as a dedicated resource to address a wide range of emergencies, including public health crises, emergent situations, calamities, and distress scenarios. It supports diverse activities such as enhancing healthcare facilities, critical infrastructure, research endeavors, and multifaceted assistance across various domains. Experion's involvement underscores our commitment to making a positive impact.
2022 – 2023
Experion Supports Antenatal Care with Swami Vivekananda Medical Mission, Prioritizing Maternal Health in Marginalized Communities.
Experion provided financial aid to facilitate antenatal care for 20 tribal women, spanning from conception to delivery. Swami Vivekananda Medical Mission, a non-profit charitable trust, is devoted to the welfare of the tribal population in Attapady Block of Palakkad district and Vattavada Panchayath of Idukki district. Through their hospital's comprehensive Gynaecology and Obstetrics department, they offer quality services to the tribal population without any charges. Their primary focus centers on addressing the challenges of infant mortality and maternal anaemia prevalent in the Attapady region. This initiative underscores Experion's commitment to supporting the well-being of marginalized communities.
Experion's Contribution Enables Accessible Healthcare: Supporting Dialysis Unit Acquisition for Underserved Communities.
Experion's funding played a pivotal role in acquiring dialysis units, a crucial step towards enhancing healthcare. The team sponsored these units to Primary Health Centres, Government hospitals, and | General hospitals, with a targeted focus on uplifting the less privileged segments of the community. The dedicated funds allocated have significantly helped those in need.
Experion Facilitates Inclusive Education and Empowerment for Diverse Abilities
In collaboration with the Sukrutham Charitable Trust, Experion lent its support to meaningful endeavors. This trust is dedicated to the rehabilitation and well-being of individuals facing physical and mental challenges, offering them vital care and educational opportunities. This transformative initiative empowers students with diverse abilities, enabling their skill development and facilitating their education alongside their mainstream peers within the welcoming environs of Gayathri Vidhya Mandir campus.
Experion Provides Personalized Essential Equipment, Fostering Empowerment for Disabled Individuals
Teaming up with SAKSHAMA (Sama Drushti Kshamata Vikas Mandal), Experion has extended its support to impactful initiatives. Specifically, the allocated funds are directed towards the acquisition of essential equipment and accessories tailored to meet the unique needs of disabled individuals. SAKSHAMA is a voluntary organization operating on a national scale dedicated to enhancing the lives of individuals with disabilities. Their efforts encompass a range of critical activities, including distributing aids and artificial limbs, offering medical assistance and counseling, as well as setting up therapy centers. The Experion team is glad to participate in this and contribute to enhancing the lives of those in need.