The COVID-19 pandemic has dramatically reshaped the business landscape, prompting organizations to reimagine their IT strategies to adapt to the changing times. One area that has witnessed a seismic shift is eCommerce. Here are some compelling statistics and industry trends that shed light on the importance of eCommerce and its rapid growth:
COVID-19 forced 79% of Retail Leaders to set up online presence and launch Digital Commerce
According to Statista, Revenue in the eCommerce market is projected to reach US$4.11tn in 2023 and resulting in a projected market volume of US$6.35tn by 2027.
According to Gartner 86% of Marketing Leaders Believe Digital Commerce will become the most important Sales Channel within the next two years.
70% of customers believe Market Places are the most convenient way to shop
As Benjamin Franklin said, "Out of adversity comes opportunity" and during COVID, organizations across verticals, not to let go of the opportunity, were in a rush to land an eCommerce platform in some way or other– be it B2C /B2B/D2C. Ultimately their goal was multifold and to ensure:
To have a scalable platform
To create business tools that empower business to perform operations (Ex: set up products, set up promotions & festive banners etc) with minimal IT intervention
To leverage their current infrastructure and data
To integrate with their inhouse systems (read legacy)
The ability to operate internationally
which brought the million Dollar question for every CIO – Should I build or Should I buy, my eCommerce platform?
The choice of eCommerce platform- Build vs Buy, depends on many factors. In general, building an eCommerce platform from scratch is a very time-consuming exercise, fraught with risks and is best suited for very mature organizations.
Below table shows some considerations for the Build vs Buy choice: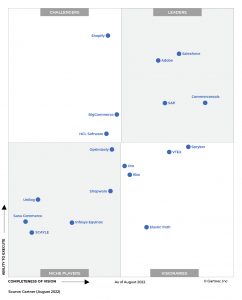 Here are the top 5 considerations that can help determine a Build vs Buy choice.
Time to Market and accelerated Global Rollouts
Faster time to market should be the most important consideration to launch an eCommerce website. Organizations want a transactional platform, where their end users can place orders. In this case a Most Viable Product (MVP) launch is the best strategy. Once the site stabilizes, they can go for a multisite global roll out, (in case of multiple brands), maintaining the same codebase but different branding and local integrations. eCommerce platforms such as Adobe Commerce on Cloud (erstwhile Magento) and SaaS platforms like BigCommerce, Commercetools can accelerate these roll outs, compared to a bespoke platform.
Organization Budgets and Cloud Strategy
Worldwide IT spending is projected to total $4.6 trillion in 2023, an increase of 5.1% from 2022. "Enterprise IT spending is recession-proof as CEOs and CFOs, rather than cutting IT budgets, are increasing spending on digital business initiatives," said John-David Lovelock, Distinguished VP Analyst at Gartner. While the trend shows an increase, Small Medium Businesses have limited IT budgets. Adoption of COTS eCommerce platforms incur significant costs. Most of the eCommerce software providers charge on parameters such as Order Lines or GMV (Gross Merchandise Value) or pricing based on a specific set of features. The costs may include a one-time signing fee and a monthly/yearly license fee. Additionally, Organizations typically need to engage a System Integrator, to customize, brand, integrate and launch their website. Also, most organizations have a preferred cloud provider and would like to have their eCommerce website also hosted on the same cloud provider. Building a bespoke platform, may go light on budgets in terms of license fees, but would still incur cloud hosting charges.
User Experience – Headless and Composable Commerce
According to Forrester, improving UX experience can increase conversions upto 400%. Mobile devices account for ~70% of all user traffic to websites. Add to that, according to Google, probability of a user leaving a website goes up by ~30% if there is an increase in page load time. All this highlights the importance of building a superior User Experience.
Of late Progressive Webapps are preferred over separate Mobile apps.
Organizations can focus on best practices such as
Headless Commerce – where the frontend UI (Ex: React js, Next js) is decoupled from backend services (Ex: REST Services) in order to provide a diverse experience based on the eCommerce channel or device. This may be used in conjunction with a Content Management System (CMS)
Composable Commerce – which involves choosing Commerce components and combining or 'composing' them into a custom application built for specific business needs
Platforms such as Adobe Commerce, BigCommerce provide native support for Headless/ Composable Commerce. When building a bespoke platform however, a lot of additional effort is needed on the UX part and support for Headless and Composable Commerce
Organization Maturity and inhouse eCommerce IT expertise
In case of Organizations that are very mature – in terms of enterprise-wide adoption of cloud and latest technology stacks – and have a very strong IT team inhouse or partnering with a System Integrator – defining and building a bespoke platform following MACH (Microservices based, API first, Cloud-native and Headless) principles is the preferred option.
Support for B2B
B2B market is not as mature as B2C. However, B2B eCommerce sales reached $1.2trillion, as per eMarketer. Increasingly Organizations are expecting B2B features on their eCommerce platforms – such as Quotes, CPQ, Punch out, Custom pricing, ERP Integration etc. Platforms such as HCL Commerce, SAP Commerce Cloud, Adobe Commerce come bundled with many of these features along with B2C features on a common codebase and can accelerate B2B rollouts. Building B2B features on bespoke platforms is quite complex.
References: Gartner, Forrester, eMarketer, Statista, Sitecore